Custom Permanent Magnets Built for High-Performance Applications
Permanent magnets are made from special alloys (ferromagnetic materials) such as iron, nickel and cobalt, several alloys of rare-earth metals and minerals such as lodestone. Unlike electromagnets, permanent magnets produce a persistent magnetic field without the need for any external source of magnetism or electrical power.
With over 60 years of technical magnet expertise, Integrated Magnetics specializes in the design, engineering and manufacturing of custom permanent magnets and precision magnetic assemblies for high-performance applications. From our headquarters in Culver City, California and our global in-house production facilities, we produce complex turnkey magnetic solutions for diverse markets across the globe. Focused Industries that we work with include military, aerospace, energy, semiconductor, R&D, automotive, industrial automation and more.
Your Custom Permanent Magnet Project - How Can We Help?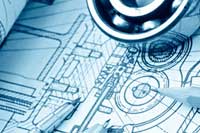 Send us a request for quote or contact us today to discuss your project's requirements, and our experienced team of engineers will help you determine the most cost effective way of providing you with a solution. We also offer a wide variety of permanent magnets for on-line purchase at MagnetShop.com.
Request A Quote
Contact Us
---
Permanent Magnet Materials
We build our custom magnets using licensed, high-quality magnet materials in a variety of premium and standard grades including:
We stock most magnetic materials, which are readily available off-the-shelf for accelerated production times lines. Standard shapes that we carry include discs, blocks, bars, rings, and arc segments in various sizes and grades. Non-standard shapes and sizes can be custom fabricated to your exact specifications from raw stock.
In addition, we stock common grades of steel, aluminum and Inconel for the production of magnetic assemblies and components. Specialty materials are available upon request. Data sheets are also available for the specific magnet materials that you are interested in.
---
Permanent Magnets - Custom Manufactured to Your Drawing or Specifications
Small quantities of custom magnets can be machined from raw stock materials that we stock in-house and turnaround times can be as short as two weeks for time-critical projects. We custom manufacture magnets to a broad range of shapes and configurations, and with special features to meet your application and performance requirements including:
Rectangles, arcs, discs, rings, or complex shapes.
Magnetic orientation to your specified angle.
Special coatings
Thermal stabilization
Data as required (dimensional & magnetic inspection, material traceability)
---
In-House Capabilities & Quality Management Systems
Using our global manufacturing, production and testing facilities, we offer a wide range of custom capabilities including:
In-house tooling, machining, grinding, EDM, assembly facilities, clean rooms & more.
In-house quality lead time control for delivering customized magnet solutions in spec and on time.
We are ISO 9001:2015 certified, registered at DDTC, ITAR & ROHS3 compliant. Supported by a team of experienced design, application and manufacturing engineers, we have a well-established QMS that meets today's critical standards.
---

Contact Integrated Magnetics Today
Reach out to us to discuss your project's specialty requirements, we're here to help and look forward to hearing from you!