The Strongest Type of Permanent Magnet Available Today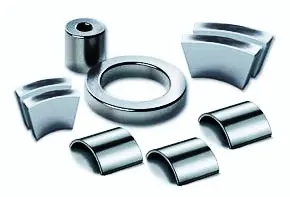 Neodymium iron boron magnets (also known as Neo, NdFeB or NIB magnets) are the most powerful type of permanent magnets commercially available today, with magnetic properties that far exceed alnico and ceramic(ferrite) magnet materials. Sintered neodymium magnets offer extremely high energy product for their compact size, they have a high-magnetic remanence and much higher coercivity than other permanent magnets.. They are also relatively low-cost and available in a wide range of shapes, sizes and grades.
Neodymium magnets are the most widely used type of rare-earth magnet for industrial, technical and commercial applications, requiring strong permanent magnets. Components that were once large and heavy can now be miniaturized, often resulting in a substantial cost savings for completed magnetic assemblies and components.
Custom Neodymium (NdFeb) Magnets
Integrated Magnetics has over 60 years of expertise in the technical design, engineering, manufacturing, assembly, and testing of custom neodymium magnets and precision magnetic assemblies. We routinely build technical magnetic assemblies for high-performance applications, either as build-to-print or design-to-specification. We also stock a wide range of neodymium magnets in various grades, shapes and sizes which can be purchased online at Magnetshop.com. Send us a request for quote or contact us today to discuss your project's specialty requirements.
---

Neodymium Magnet Applications
NdFeB magnets are routinely used for holding systems requiring very high holding forces, high-performance motors, sensors, medical instruments, magnetic resonance imaging, high-field yoke magnets, magnetic bearings, magnetic couplings, loudspeakers, Halbach Arrays, magnetic separation equipment, switches, relays, sputtering, vacuum deposition, charged particle beam guidance, particle accelerators, undulators, wigglers and more. We are trusted partners to businesses worldwide in these primary markets.
View Industries
---
Neodymium Magnet Design, Engineering & Manufacturing
View Capabilities
---


Your Custom Neodymium Magnet Project - How Can We Help?
It's important to work with an experienced magnet engineering and manufacturing team for optimal magnet performance; Integrated Magnetics has over 60 years of accumulated knowledge and expertise in this specialty arena. We are able to fully engineer magnetic components and assemblies for your specific applications using sophisticated FEA tools with magnetics, thermal and stress analysis. Contact us today or send us a request a quote to discuss your project's specialty requirements.
Request A Quote
Contact Us
---
Neodymium Magnets Features & Characteristics
Grades & Materials - We carry a large inventory of licensed, neodymium magnet materials in both standard and premium grades for reduced production and lead times. We offer sintered neodymium magnets in grades ranging from N33 to N53. Visit our neodymium magnet materials page for additional information and for data sheets about this material.


Sizes & Shapes - Sizes for standard Neodymium Iron Boron rare-earth magnets range from a few millimeters to approximately 150 mm, while assemblies can weigh up to several tons. Standard shapes that we carry include discs, blocks, rings, and arc segments in various sizes and grades. Non-standard shapes and sizes can be custom fabricated to your exact specifications from raw stock.


Temperature Considerations - Neodymium magnets are temperature sensitive. For applications in which the magnet may be exposed to temperatures in excess of about 250°F (120°C), careful consideration must be given to the choice of magnet grade and the magnetic circuit. Send us a request for quote or contact us today and our experienced team of engineers can help you to determine the best and most cost-effective choice for your project.


Manufacturing Methods - Due to the relatively brittle nature and high-magnetic strength of NdFeB magnets, cutting and grinding should be done prior to magnetization. We are fully equipped to machine these materials to virtually any shape and size for your project's specialty requirements using our in-house grinding and EDM facilities. Finishing to tolerances of +0.0001" can be achieved, as required.


Surface Treatments - Neo magnets are susceptible to oxidation, so painting, epoxy coating, or plating is highly recommended to prevent corrosion. Surface treatments that we provide include nickel plating, IVD, or epoxy coatings.


Magnetizing & Assembly Considerations - Neodymium rare-earth magnets are anisotropic and have a strongly preferred magnetic orientation. Special magnetizing fixtures are required in order to achieve multiple pole magnetization. Magnetizing fields in excess of 35 kilo Oersteds are required to magnetize these materials.


Handling & Storage - Neodymium materials are relatively brittle, but are magnetically very strong. They must therefore be handled carefully to avoid injury to personnel and damage to the magnets.
---


Contact Integrated Magnetics Today
Reach out to us to discuss your project's specialty requirements, we're here to help and look forward to hearing from you!